Catfish Recipe Blackened Catfish
This post contains affiliate links.
Catfish Recipe  Blackened Catfish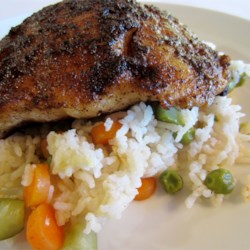 Catfish recipe Delicious Blackened Catfish
Recipe By:Eric Lubow
Go here to see many other recipes to enjoy.
Catfish recipe  Blackened Catfish
"Quick and easy blackened catfish recipe. I like to serve this over a Cajun flavored spicy white rice. Although the rice is optional, the slightly spicy Cajun flavor of the rice brings out the taste of the catfish."
Ingredients
1 cup white rice
2 cups water
1 teaspoon Cajun seasoning
1/2 teaspoon hot pepper sauce
One teaspoon ground thyme
1 teaspoon ground black pepper
One teaspoon ground cayenne pepper
1 teaspoon salt
one half teaspoon garlic powder
1/2 teaspoon onion powder
one half teaspoon paprika
1/2 teaspoon dried dill weed
1/4 teaspoon lemon pepper
2 (8 ounce) fillets catfish
one half cup butter, melted
1 teaspoon lemon juice, or to taste
Directions
Blackened Catfish and Spicy Rice
Bring the rice, water, Cajun seasoning, and hot pepper sauce to a boil in a saucepan. Reduce heat to medium-low, cover, and simmer until the rice is tender, and the liquid has been absorbed, 20 to 25 minutes.
While rice is cooking, mix thyme, black pepper, cayenne pepper, salt, garlic powder, onion powder, paprika, dill weed, and lemon pepper in a bowl until well blended. Brush catfish fillets with butter and sprinkle with seasoning mixture other both sides.
Heat any remaining melted butter in a large skillet over medium-high heat; pan-fry seasoned catfish in butter until fish is easily flaked with a fork, 4 to 5 minutes per side.
Serve catfish over a plate of seasoned rice. Pour leftover butter from the skillet over fish and sprinkle with lemon juice. Now pour a glass of wine and sit down to a fabulous dinner. Then after you have enjoyed this you can go here to see other delicious recipes for you to savor.
Please follow and like us:i-love-fishing.com